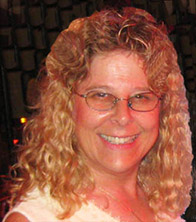 Lynn Barwald started her art career in 1992 by creating and selling handmade glass and crystal jewelry with her husband at the Florida art shows. The jewelry company's name? Lucky Charm Jewelry! Several years later, Lynn was introduced to rubber stamping and scrapbooking which opened up a new outlet for her creative energies. This was also a way to use some of the many photos and memorabilia she had accumulated over the years.
After seeing people's excitement in the scrapbook pages and projects she created, Lynn decided to share her scrapbooking and rubber-stamping skills with the world via Lucky Charm Crafts. She has taught classes in many scrapbook and rubber stamp stores. Today, Lynn creates paper works of art and teaches paper crafting classes online and at her studio in Wellington, Florida. She is also available for offsite classes.
Lynn is a certified Gemologist in colored gemstones by the Gemology Institute of America (GIA), a Dale Carnegie Graduate, a motivational speaker, and her work has been published many times in international rubber stamping and scrapbook magazines including Rubber Stamper and Scrap 'n Art.
Contact Lynn today to get started on your own paper craft journey.

My "Pirate Essentials" Card was published in the Rubber Stamper magazine. I made the centerfold! Actually, just to the right of the centerfold... couldn't have asked for better placement.
This card was made using mulberry papers, embossed stamped beach images, epoxy stickers and rope.
My Birdhouse Project was published in the the Scrap 'n Art magazine.  I made the birdhouse project as a design team project for the Everything Scrapbook and Stamps store.
After deciding to turn the box into a birdhouse, I decided to add tags inside with chicken and egg recipes!
"He's got Cooties" was published in the Scrap 'n Art magazine. I made this layout as a design team project for Beloved Keepsakes who designs & sells fabulous cutter files!
The title and cooties were cut on my electronic cutter and the journaling was hand written.
My "African Women" card was published in the Rubber Stamper magazine.  Our stamping group submitted cards and mine was selected.  See our picture?
This card was made using watercolor crayons and all different fibers, including steel wool, for the hair.



Lucky Charm Crafts
Paper Playground & Studio
Wellington, FL 33414
561-512-3622
Lynn@LuckyCharmCrafts.com